How Supermacs saved the Volvo Ocean Race
Moore Marine welcomes home the Green Dragon
The imminent arrival of the Volvo Ocean Race to Galway meant that Saturday night was one of great anticipation. Throughout much of the previous week there had been wild speculation as to when the fleet would arrive. Some were saying they wouldn't be arriving until Tuesday, whilst others were saying Sunday night.  It wasn't until Saturday that the predicted arrival could be forecast. You can only imagine the shock on my bleary head (I had a friends wedding the night before), when I discovered that they were due to arrive in Galway at c. 04:00 on Saturday night/Sunday morning. This said, there was little chance that this event was going to be missed. So in the true sense of a very tired and slightly under the weather boat Coxwain, a clever plan was hatched to meet the Green Dragon off the Aran Islands and escort it back to its home port Galway.
At eight o clock on Saturday evening, two ribs, one from Moore Marine under my command, set a course for Inis Oirr. As it was initially thought that some sleep would be had that night, both boats were optimistically filled with tents, sleeping bags and food (oh the naivity!!!) Both boats left the Docks in Galway and after rounding Mutton Island entered Galway Bay into the face of a strong westerly wind. Some time later after rounding Black Head, we sighted Inis Oirr. It took two hours and some wet, bone shaking waves before we reached the safety of Inis Oirr harbour. Upon arriving, we were greeted by the spectacle of another 13 Ribs who had made a similar journey from places like Bearna and Spiddal.
In typical sea dog style, we all adjourned to Tigh Neds to rinse our salty throats and compare the merits of our boats. The atmosphere on the island was absolutely electric, the islanders, rib owners and passengers were all coiled like springs, ready to pounce at the sight of a red port running light. Rumours were also rife about what time each boat was expected at Galway and then some fuzzy heads had to try do reverse calculations to try and determine when they might be rounding Inis Oirr Lighthouse. Luckily, we had a secret weapon, an islander (well actually an Inis Meain islander). Throughout the three hours we waited on the Island, Padraig would phone his cousin on Inis Meain to get reports. It was he that was able to tell us when Ericsson 4 had passed the North Light of Aran Mor. At this news there was an almost mass exodus from the pub. Why? we were wondering to ourselves, sure they're not an Irish boat. Despite this most of the other ribs in the harbour set out to intercept Ericsson. Maybe, we thought, they are going to attempt to push the leader off their course.
With the boats leaving the harbour, there was a melee of red, green and white lights, all tearing out to Finis Rock, whilst we slowly sipped our coffee and pints. The running light of Ericsson passed the island at a spectacular speed. It was not until Padraig told us that a second light was spotted that we took our cue. All eleven of us piled into the boats and made our way in the pitch blackness to beside Finis. Leaving the harbour was an eerie feeling. It was a place I had visited countless times but one I never had to leave in the dark of night. When we arrived at Finis we could see a red running light pass the Lighthouse. Was this the Green Dragon? No one knew. Then I looked to my left and saw another set of lights which previously hadn't been there. They were high too so I knew they didn't belong to another rib. It wasn't till we felt a bit nosey and went over to see who it was that we discovered it was the official Media boat of the Volvo Ocean Race. After we circled them, a number of people came out on deck to greet us. They told us the second boat was Puma and that Green Dragon was following closely behind in third. Then they asked if we wanted our photo on the front page of the web site as they had a live link. Huuum!!!! let us think about that. Of course we did, so a great cheer and CHEESE!!!!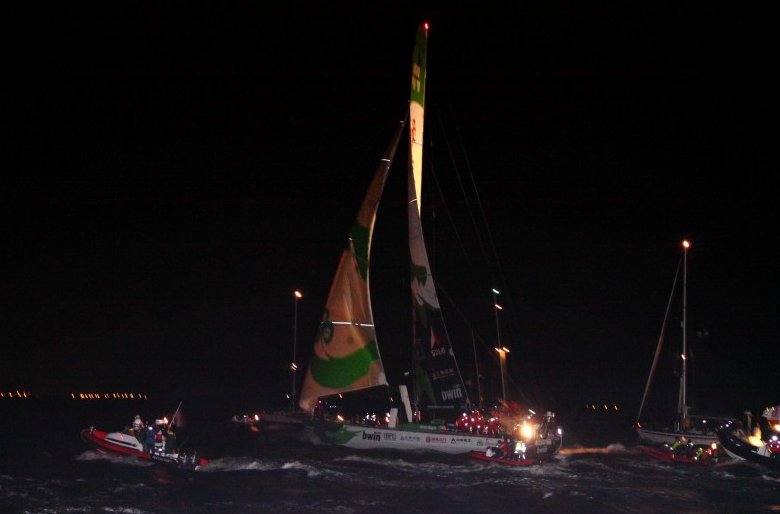 Image Captured from greendragonracing.com and copyright Yongtao Jiang
Photo taken and off they went, whilst we drove over to try catch a glimpse of Puma. Trying to catch this 70 ft boat was no easy achievement, especially when you can not see what is in front of you. Low and behold we did. We called them and their boat semi-rude names in the hope that they would take offence and turn their boat around to chase us, thus leaving the way open for Green Dragon to claim second place. It appears that they didn't hear us as all they did was wave (darn!!!).
Meeting Green Dragon 30 miles off Galway was amazing. Travelling at 20 knots downwind, she was really ripping. Still in the black of night, we made our way over towards the red running light. Coming upon the boat, with her gigantic spinnaker sail bellowing, was some sight. We followed her on the port side for about twenty minutes totally in awe of the size of the sails and the speed she was travelling. Then we cut behind her and followed in her wake for a good thirty minutes. At this time there were only three boats following her. Ourselves, our friends boat and another large Predator Rib. (Image above – we are the orange rib directly astern of Green Dragon).
We followed Green Dragon from Inis Oirr all the way to Mutton Island. At this point the sea erupted into what appeared to be boat soup. There were boats of every kind, shape and size appearing from everywhere to welcome home Green Dragon. At this point, we thought we would cut a dash and chance our arms at getting into the docks, where the boats would ultimately be welcomed. We veered off and to our surprise, we sauntered straight into the Docks, circling around and waving in awe at the number of people who were out to greet the boats. Much to the consternation and protestation of my passengers I insisted on staying in the Docks to welcome the Irish/Chinese entry. They were concerned that we shouldn't be there but hey, what were they going to do to us, ask us to leave? I appeared to me that they were too caught up in the festivities to care. As a result, we were there alongside the Green Dragon when she came into the Docks. (image 3 of below link, reposted here, we are the boat talking to Green Dragon).
Once all the celebrations were over, we tied up the rib and decided to try get a drink, but by this time (c.05:00) the chances of getting a drink were slim to none. As we headed further into town, it suddenly dawned upon us that it was actually early morning as opposed to late night. We tried The Charcoal Grill for one of their always delectable kebabs, but they were closed. Up Cross Street we went, and you can only imagine our joy when Mark, the manager of Supermac's Cross Street, came to our rescue and restarted one of his fryers especially for us. He gave us a veritable feast of Chicken Burgers and chips and it was then that we understand how true their logo was 'tasty and tempting food at Supermacs'. Never again will I utter it in vain.
After our feast of Kings we went back down to the Docks and regrouped. Time to head home. We all decided. So we hopped in the boat and tore over to Rinville, took the Rib out and brought it home. After a quick shower which initially felt like a salt bath (due to the amount of sea salt on my face and in my hair), it was off to bed, not to wake til 2 pm that day.