Dublin 1911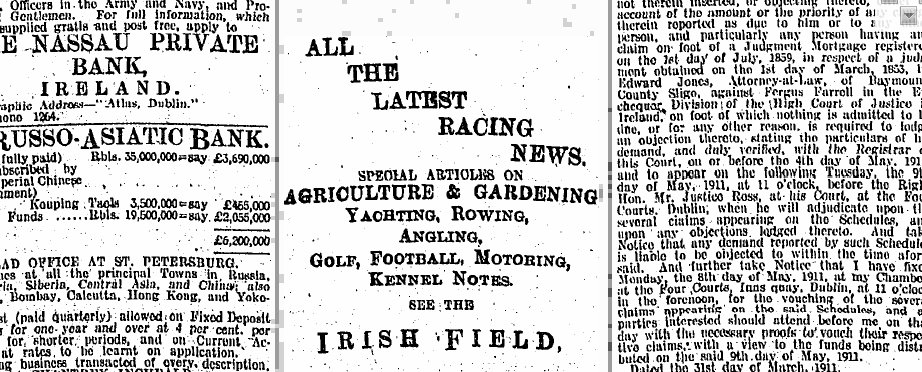 The 1911 census for Dublin is now available online free and provides a great resource for family historians and genealogists throughout Ireland and the globe. The census is a huge document and the site has a searchable database of the census returns and enumerators´ summary books, all scanned and viewable. The rest of the Country will be made available through 2008. The census was carried out on 2 April.
Also available online (but costing money) is the entire archive of the Irish Times from 1859 on. We decided it might be interesting to occasionally review both resources and present little vignettes of the time as each county becomes available – so, in this post we'll simply set the scene and summarize the main national news stories in Dublin that night and the following day, as reported by the Irish Times, and trace the fate of a few or simply summarize the circumstances of the people who were recorded on that single night in 1911. The research is all web-based so we've had to make a few suppositions with regards to events and circumstances.
Sunday the second of April, 1911 was a fair but cold day with squally showers, not much different from our April days almost a hundred years later. That night was chilly, with occasional showers. Monday, however, was a bright, fresh day.
The evening of the second was census night, and according to the Times 'the paterfamilias may have rather enjoyed than otherwise a good-humoured little tiff with his wife and daughters' on the 'troublesome business of inquiry into ages', but that 'it was a more serious matter when the ages of his female servants came to be investigated'! That, I'm sure was a problem that many of the residents of Dublin were terribly perturbed by, but, as the Times adds, 'such trials must be regarded as incident to the trials of citizenship'. As I sit here in my country home in 2008, servants busily preparing my meal in a gracious and polite manner, my heart goes out to the denizens of nineteenth century Dublin and the trials they faced in having to pose that most awkward of questions to their country maid!
Similarly, only two years ago, we all had to endure the same inconvenience, but at least we didn't have to contend with the noisome suffragettes of whom in 1911 we were frustrated in our aims of 'unimpeachable progress'. Their threats in 1911 would have interfered 'with the success of a great social inquiry' and would have 'no substantial effect on the opponents of woman's suffrage'. Obviously their protest was merely a cheap 'advertisement for their grievances'. And looking back from the twenty first century, I'm sure most readers would agree that their 1911 protest was really just a little bit annoying for everyone.
Thankfully, King George and the Queen set an excellent example by carefully and accurately filling their census forms. Apparently, by Royal command the work was done most thoroughly. 'The Board of the Green Cloth' dealt with the servants, except of course the coachmen, footmen, and grooms' (who were recorded by the Master of the Horse Department) and throughout the Royal Household (household with a capital H) the same care was taken to make the returns absolutely reliable and complete.
That evening Henry Doyle and his wife Jane in Castleknock sat down and filled their census form like everyone else. Henry is recorded as a 'gatekeeper' (presumably in Phoenix Park). Young Augustus Frederick (14), his older brother Henry Francis and their sister Margaret rested easy in their beds that night as Henry Senior and Jane busily filled in the forms. Seven years later, Augustus would be killed at Wervicq on 10 October 1918 while serving with the Seventh South Irish Horse Battalion (coincidentally, Adolf Hitler was gassed and temporarily blinded near Wervicq only 3 days later). Shortly after, the war ended.
In 127 Thomas Street the Cheevers family detailed their circumstances. Edward and Margret (sic) had seven children, ranging in age from 21 years to 5 months. Edward was a hairdresser, while his son John (19) was a labourer and eldest daughter Elizabeth (21) worked as a factory girl. Number 127, a twelve room house with a shop on the ground floor was shared with five other families, each family occupying two rooms. The Cheevers' likely weren't required to ask delicate questions of their servants and retainers.
Next time – murder in Phibsboro!