Civil War Photo
An earlier post on the Civil War in Connaught has proven to be the most read post on this blog, and even elicited a response from a relative of Francis (Frank) Cunnane – obviously there's a huge appetite out there to learn more about this period of our history.
One reader, Brian McHugh, sent us a copy of the photo reproduced below of his uncle Pat, who served in the Free State Army.
Although he has little information regarding Pat, regarding the provenance of the photo, or even where Pat was posted during the Civil War, we're hoping someone out there might be able to provide some further information.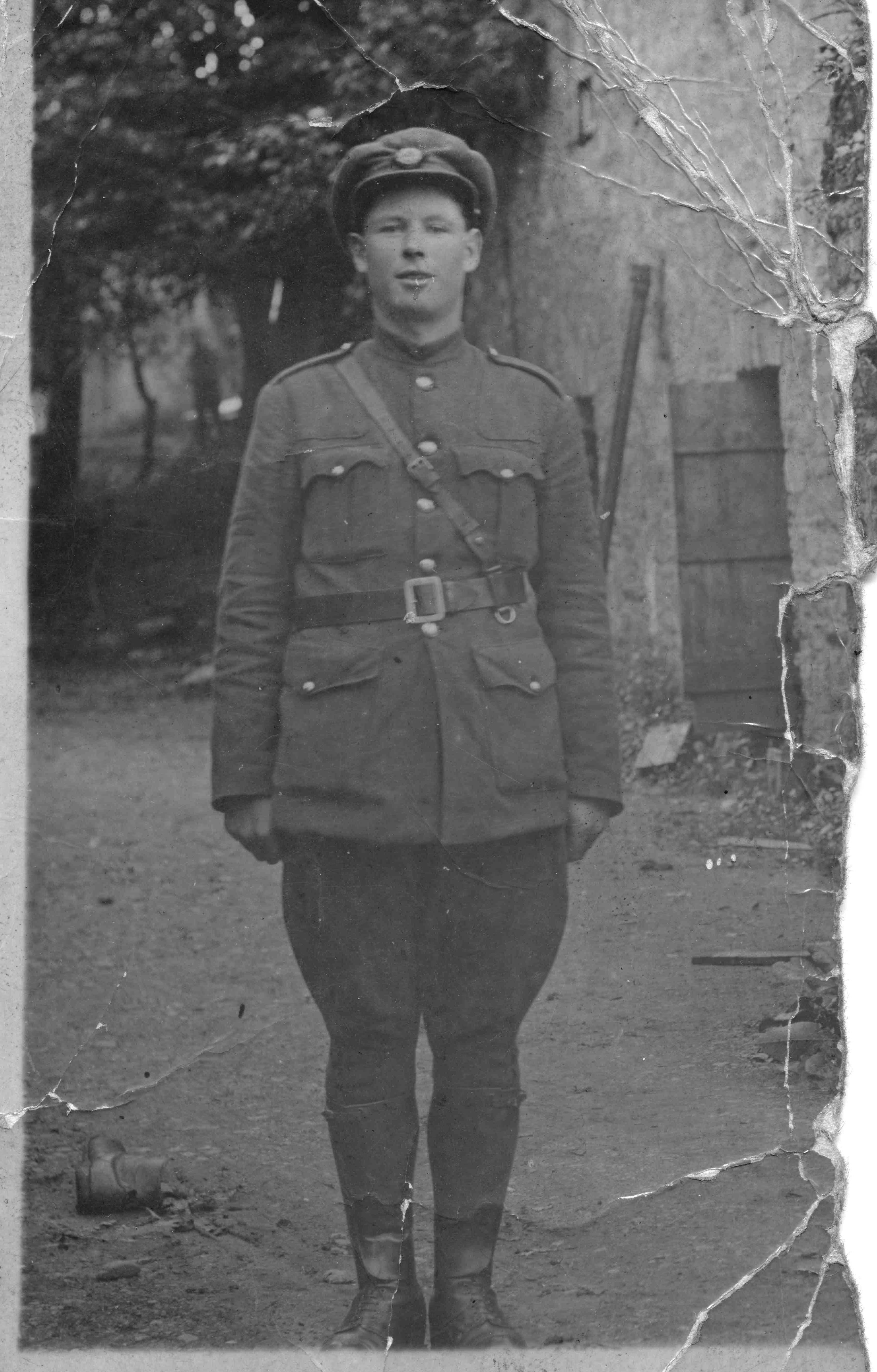 Brian's father was also active in the Civil War and was posted to Dublin and then to Cork in 1922 where he took part in the seaborne invasion – Cork was taken by Free State troops in August 1922 which included both overland and seaborne attacks (Brian tells us that his father remembered the crack of the bullets hitting the side and the deck of the boat). Brian's father was eighteen at the time while his Uncle Pat was younger, leading Brian to think Pat may have served later – possible in 1923.
There are two or three things which are worthy of note in the photo: the boot to the left of the picture and the apparent activity in the forest in the background, perhaps another soldier (and what is the white, odd shaped object?). You will notice that part of the photo is torn off although this might not be that sinister. The reverse side of the photo is a postcard (unused) and perhaps it was simply torn to "fit in".
There are so many Civil War and War of Independence stories out there – and we're happy to post our readers artefacts, photos or queries – if some family questions, or stories can receive a wider audience through this forum, it would be great. Perhaps some of our readers can help Brian find out more about the provenance of the photo and fill in some of the gaps for him, please email us or feel free to leave a comment here and we can put you in touch with Brian.
Given the amount of interest, the stories and personal accounts that are still out there, perhaps it's time that something like the Great War Forum should be created. If anyone has any ideas – again email or comment here.