Irelands environmental scorecard
Overall, the OECD's recent report on Ireland's environmental performance, part of their Economic Survey of Ireland 2009 which was published yesterday (available online as a pdf here), presents a reasonably positive review of the achievements here over the past few years. Indeed the report highlights the fact that 'Ireland generally has good air and water quality' and that 'Energy intensity, or energy use per unit of GDP, is the lowest among OECD countries'.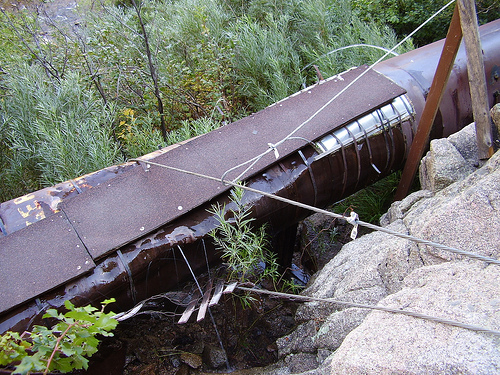 However, there are a significant number of challenges to be faced, and water quality and efficiency of distribution is not the least of these challenges, as our Galway readers will be only too well aware.
With reported water loss due to leakage in Galway City at almost 50% and the county faring almost as badly, compounded by recent water quality crises in the city and county, it's clear that water quality and conservation are two of the major challenges facing the region over the coming years. Galway City's cryptosporidium outbreaks of 2002 and 2007, as well as elevated lead levels in the water supply (Old Mervue) are specifically mentioned in the review. In this context, the OECD report recommends incentives for more efficient use of water resources by introducing charges to households. It seems to me that, given the fact that development levy finance has entirely dried up, and other local authority revenue streams have collapsed, the only way for our local authorities to ensure a safe and efficient water supply in the coming decade is to charge householders this levy. As it is, Ireland is the only OECD country that does not do so.
It will not be easy for our political representatives to convince the public of the need for charges and any charges that may be introduced will have to be carefully priced. Launching the report, Angel Gurría, OECD Secretary-General, had this to say about charges:
'Coming from Mexico I am very aware of the social concerns that exist about charging people, especially poor people, for their use of water. But there are ways to target support to poorer households to ensure that they have adequate access to water services. Based on past OECD work, countries have used a variety of means for this purpose, including income support, vouchers to cover the cost of a certain amount of water consumption, or volumetric charging where the initial amounts are free or low-cost. Not charging for water use is effectively a subsidy for richer households. It undermines the financial viability of water utilities, and results in inefficient use of this increasingly scarce resource.'
Let's hope that the Government doesn't consider privatisation….