Volvo Ocean Race Latest..
Here's a screenshot showing the latest positions in the Volvo Ocean Race. Green Dragon has reached second position with only 340 nautical miles (nm) left to Galway. Reports from town indicate that the race village is nearing completion and the docks have been transformed. The event is a remarkable achievement and huge congratulations are due to the organisers and the army of volunteers who will be helping run events over the next two weeks. We hope to have our RIB out next weekend for the in-port race.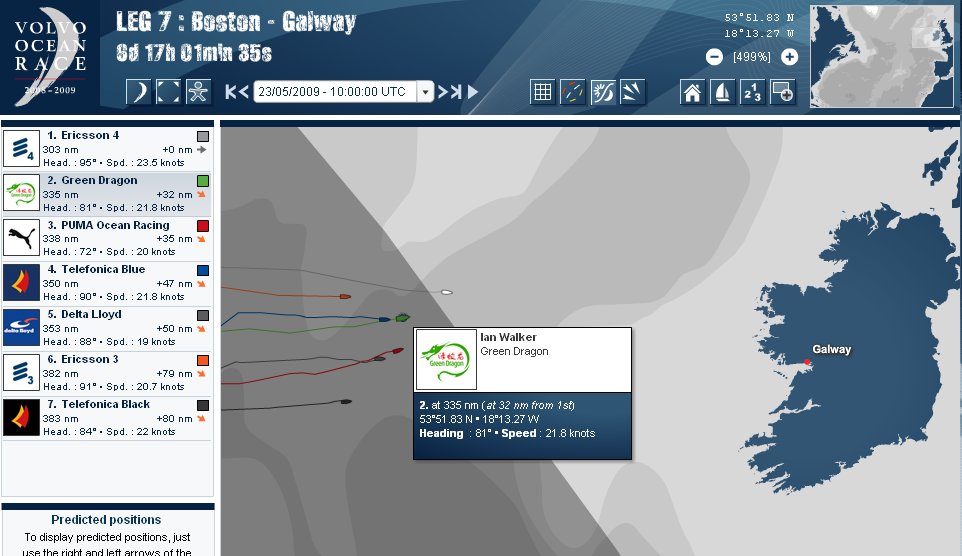 According to Skipper Ian Walker of the Green Dragon:
The Dragon has had a good night and we have popped up out of stealth mode only 1 mile behind PUMA in 2nd position. Some boats gybed later than us and some gybed earlier, but it seems we have come good in the middle somewhere.
We have also pushed the boat hard all night with the fractional spinnaker with no mishaps. Despite big waves and 25 – 30 knot winds it was a clearer night with fewer squalls making life easier for all onboard.
We now have a 330 mile drag race to the Aran Isles. The race now is all about speed – there are no tactical options. We are running extra people on deck and putting every last drop of energy into the last 360 miles to the finish. I am sure no crew are willing their boat forward more than ours right now.
Should make for a great finish in Galway..
The Race's website is an excellent site with regularly updated positioning, video footage, vlogs, blogs, profiles of the stops and more. And the Galway website – letsdoitgalway is a great resource with local info, event guides etc..