WAC 6 Fringe beer
We've been invited to present the beer experiment at WAC 6 in July as part of the WAC Fringe at UCD's Belfield Campus. WAC is shaping up to be a great event. We'll be giving out free samples of our Fulacht Beer/Hot Rock Ale at the event as well as samples brewed by a student from Sligo IT, who recreated and improved on the process (more on that later). We're looking forward to hearing people's opinions of both the process and the beer! So this weekend we have to go off to get juniper, elderflower, bog myrtle and get brewing again in preparation…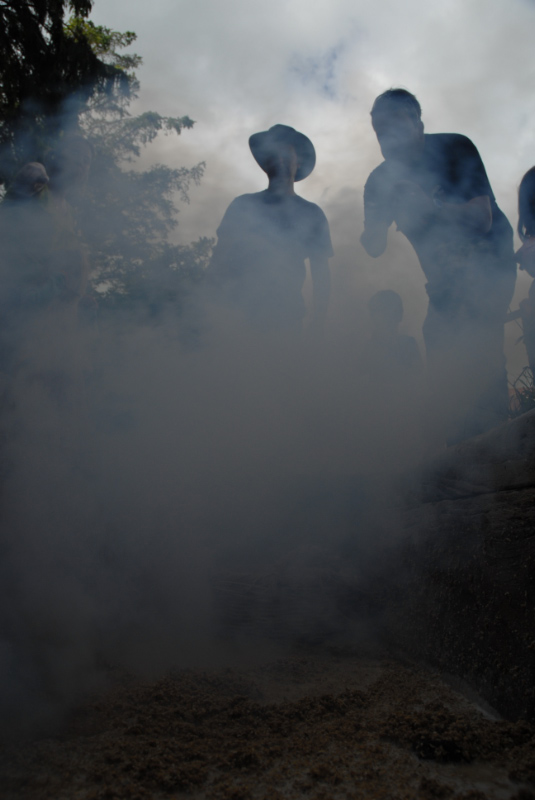 Our bog myrtle is sourced on the north shore of Lough Corrib, and we'll gather about 10 plants for three brews of the ale, our juniper we just buy online and our elderflower will come from Billy's garden as needed (we discovered that elderflower is very yeast heavy and probably accentuated the flavour of our first brew last year – which was the best of all the brews!). The pickup will also be busy this weekend collecting granite from Connemara.
Here's the excerpt from the WAC Fringe programme:
Billy Quinn and Declan Moore, Moore Group

Thursday, 3rd July & Friday 4th July

A demonstration of their 'Great Beer Experiment', which attempted to demonstrate the feasibilty of using burnt stone mounds ('fulachta fiadh' in Ireland) as brewing sites. They will demonstrate and discuss their experiments and research into the enigmatic site that is the fulacht fiadh. These ubiquitous monuments, which are visible in the landscape as small, horseshoe-shaped grass-covered mounds, have been conventionally thought of by archaeologists as ancient cooking spots, saunas or industrial sites.
We're also looking forward to seeing the experimental bronze forging group, Umha Aois who will be in residence the entire week of WAC with 'demonstrations of experimental practices aimed at understanding the methods and techniques of forging bronze artefacts developed in the Bronze Age.' "Umha Aois" (Irish for "Bronze Age") is an ongoing experimental project organised on a volunteer basis by a committee formed of artists & archaeologists.
Directed by Dr Steve Davis (School of Archaeology, UCD) and Dr Ian Russell (Humanities Institute of Ireland, UCD), assisted by Dr Andrew Cochrane (Cardiff University, Wales), the WAC Fringe will feature 'a series of demonstrations, events and exhibitions, showcasing cutting edge international archaeological research and artistic practice. These will include demonstrations in experimental archaeology (e.g. flint knapping, hide working, cooking), audiovisual presentations (with the School of Folklore, Irish Traditional Music Archive) and conceptual materials (e.g. photographic exhibitions, artistic materials), and will bring together collaborators from within Ireland, as well as from Europe, N. America, China, Australia and New Zealand.'
The Fringe will include 'In Transit – The excavation of a transit van by John Schofield (UK) with photographs by Urusula Frederick and Katie Hayne (Australia) which I've read about before and sounds interesting…. Also of interest is a demonstration by Sculptor and currach-maker Holger Lönze of making of a traditional oval-shaped River Boyne currach from the Oldcastle area of Co. Meath.
For more see the WAC website.