No more Flashman
"These stories will be completely truthful; I am breaking the habit of eighty years. Why shouldn't I?
When a man is as old as I am, and knows himself for what he is, he doesn't care much. I'm not ashamed, you see; never was – So I can look at the picture above my desk, of the young officer; tall and handsome as I was in those days, and say that it is the portrait of a scoundrel, a liar, a cheat. Since many of the stories are discreditable to me, you can rest assured they are true….."
Brigadier General Sir Harry Paget Flashman VC, KCB KCIE, 1914 (?)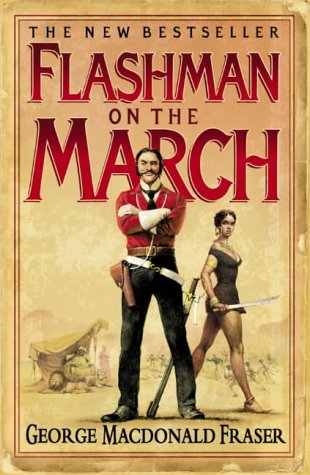 In an earlier post we mentioned Lola Montez, a nineteenth century Irish-born dancer and actress and infamous courtesan who gained notoriety worldwide for her exotic dancing. Montez is fictionalised in Royal Flash by George MacDonald Fraser, where she has a brief affair with Harry. It is with great sadness that we note that Fraser, creator of Flashman, died on the second of January last.
The Flashman books chronicle the life of Harry Flashman, the cowardly bully of Tom Brown's Schooldays after he had been expelled from Rugby school for bullying and drunkenness. Flashman (Flashy) is reintroduced to us in Flashman (1969) drinking and chasing women in the middle of the retreat from Kabul in the first Afghanistan war. Historically accurate and hugely entertaining the Flashman books also provide readers with a vivid picture of life in nineteenth century Empire-land.
The second book, Royal Flash, featured Lola Montez, the fabulous beauty of the age, and her lover Ludwig, the mad King of Bavaria. The 12 books of the Flashman series feature many of the nineteenth century's major events, including the Charge of the Light Brigade, Custer's Last Stand and the Opium Wars among others.
Fraser wrote four other non- Flashman novels, three books of short stories and numerous film scripts including Royal Flash, Red Sonia and Octopussy. As a friend of ours commented elsewhere – now we'll never find out what he got up to in the American Civil war!