GREEN DRINKS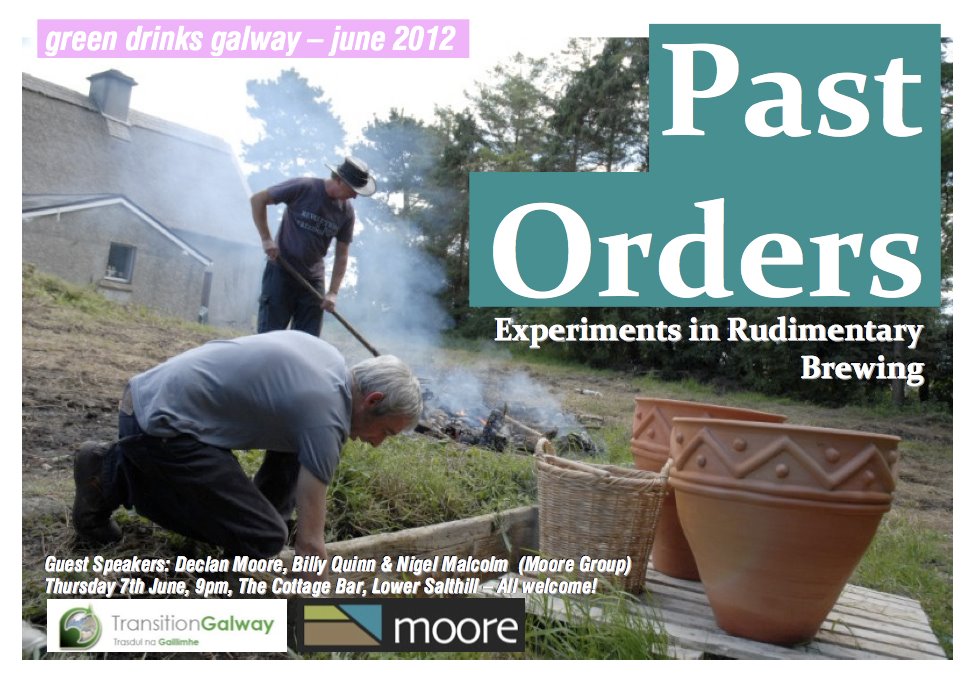 Tomorrow night (or tonight, if you're reading this tomorrow), Billy, Nigel and Declan will be presenting at 'Green Drinks' at 9pm in The Cottage Bar in Salthill. All welcome….
Facebook Events page here: https://www.facebook.com/events/242453705861386/
ABOUT GREEN DRINKS:
====================
Once a month in 448 cities around the world people with an interest in green issues get together to chat, share ideas and raise a cup/glass to a brighter future. Tea, coffee, alcoholic and non-alcoholic drinks are available at the bar. Green Drinks Galway is organised by Transition Galway.
Previous speakers at Green Drinks Galway include:- Caitríona Cunningham, of Conservation Volunteers Galway and an environmental educator, spoke about the importance of wildflowers. – Br. Cathal Duddy, a Galway-based Franciscan friar (www.praying-nature.com), gave a talk on St. Francis of Assisi. – Vivienne Campbell, a Clare-based medical herbalist, spoke about foraging for herbal remedies, food and cosmetics. – Brendan Smith spoke about his work as a community environmental and social activist – Deirdre Lee of Camara Galway which is an Irish volunteer organisation that refurbishes used computers for use in educational centres across Africa, Jamaica and Ireland (www.camara.ie) – Dr. John Stanley, of www.ecobuddhism.org and editor of the book 'A Buddhist Response to the Climate Emergency' featuring chapters by the Dalai Lama and other spiritual leaders, who spoke about Ecobuddhism. – Sarah Newell, a planner and urban designer with Limerick Regeneration Agencies, spoke about positive solutions for Ireland's 'Ghost Estates' – Ronan Brennan (of Galway Hooker Beer) who spoke about local beer production – Dr Kieran Hickey, lecturer in Geography at NUI Galway, gave a presentation on the likely impacts that climate change will have at a local level in Galway over the coming years – Seamus Sheridan of Sheridan's Cheesemongers spoke about local food – Dr. Frances Fahy of NUIG, who spoke about the research being undertaken on sustainable consumption at the university – Tiarnan McCusker, Green Schools Travel Officer with An Taisce, who gave a talk on Bike Week and the Galway Bike Festival – Sharon Carroll of Galway City Council spoke about 'Greening the Festival Initiative' which is a brand new initiative that is working towards making the Galway Arts Festival more sustainable – Greener Smarter Energy Consultants, who gave advice on reducing energy bills and staying warm at home during the winter