Coastal Heritage
An initiative of The Heritage Council of Ireland (and funded by the Heritage Council) the web-based resource 'www.coastalheritage.ie' is a tool and information source for those initiating or taking part in projects in the coastal zone, and who wish to inform themselves on heritage issues in the marine and coastal area. Moore Group, along with Aengus Parsons and MarCon were commissioned by the Heritage Council to compile the Directory on Heritage and related issues in the Marine, Coastal and Offshore Zones. The brief included natural and built heritage, folklore, folk-life and traditional skills.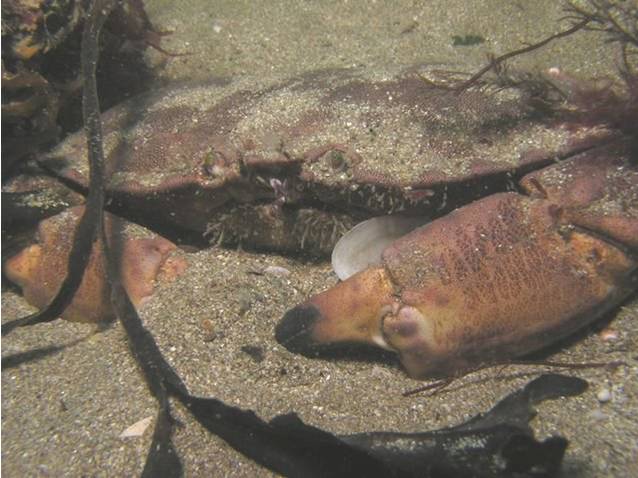 Edible Crab Cancer pagurus
Our hope, and that of the other partners in its development, is that the website will prove to be of use for everyone from local authorities, community groups, other relevant organisations and agencies, and NGOs. Use of existing information resources was made, and consultation with key stakeholders in national agencies; the NPWS and National Monuments Sections of the Department of the Environment Heritage & Local Government, Local Authority Heritage Officers and Planners, Local Area Engineers and Community Development Officers-all were crucial to the compilation of the resource.
The directory was compiled in 2006 and was uploaded to the web later in the year. It can be browsed by topic and by searching for key words. The site provides general summary data along with links. The information available includes:
Roles and responsibilities of those involved: Government Departments and Agencies, Local Authorities, NGOs etc. including National and International level and community groups who are involved in related projects.
Legislation & Policy context: National Development Plan, National Spatial Strategy, Water Framework Directive, Habitats & Birds Directives, EU recommendation on ICZM, proposed EU Marine Strategy National Heritage Plan, National Biodiversity Plan.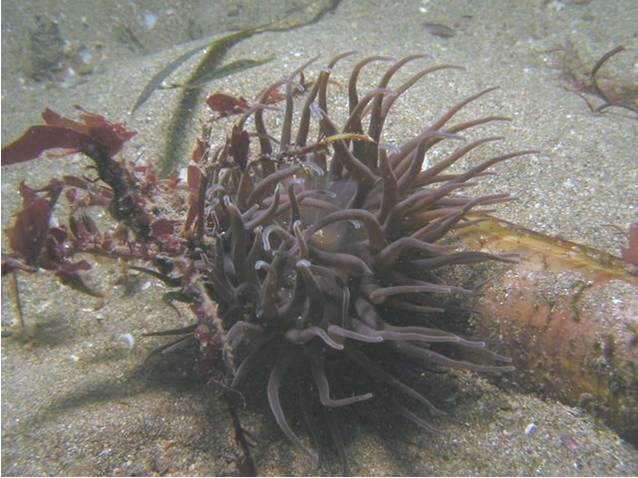 Snakelocks anemone Anemonia sulcata
Heritage in the coastal zone: Providing links and collating where possible baseline information on designated areas, Record of Monuments and Places, Record of Protected Structures, Marine Protected Areas wrecks, folklore, folk-life, traditional and heritage boats, vernacular features.
Heritage in the off-shore: Covers the entire EEZ, Inventories of sources of information and organisations involved in off shore exploration (PIP, the Sea bed Survey), foreign research cruises, cetaceans, seabirds at sea, fisheries, deep sea corals etc
Coastline characteristics of Ireland: Information on the different types of coastline found around Ireland – e.g. sand dune systems, rocky shores, machair, shingle beaches, estuaries etc. The heritage issues relating to the different types of coast line.
CZM projects or related projects completed and carried out in Ireland including contact details. Relevant Research in the coastal zone and off-shore carried out in the past 10 years by EPA, Marine Institute, Universities, Institutes of Technology, local authorities and other relevant stakeholders. Climate change – possible implications for heritage. Reference to relevant publications and journals.
Links to other related projects including ones already commissioned by the Heritage Council e.g. Bibliomara.
It also includes relevant case studies from other countries and Links to related web sites. It's a really useful resource and well worth viewing (if we say so ourselves). The site was designed by the Coastal and Marine Resources Centre (CMRC) at UCC.