Beer haiku and all that
Finally we've found an opportunity to update this blog. It's been a very busy month. Brewing beer in a pit, running a business and managing a regularly updated blog are not all mutually compatible. But, we'll try to keep up with things as much as possible.
Sad to hear on our friend Pete Browns blog that Michael Jackson – the beer writer, not the Gloved One – has died. Pete has a nice piece about him.
Talking of Pete we wish him the best of luck on the great journey he's about to embark upon. From September to December this year, he'll be recreating the historic journey of India Pale Ale from Burton-on-Trent to Kolkata (Calcutta). He's been busy brewing as well in preparation for the journey. You can follow his adventure on his blog. And he thinks we have a great job!
Our Great Beer Experiment was a resounding success. Everyone seemed to have had a good time and our demo went swimmingly. We were a little careless with the brew on the day and it didn't turn out too well, but we'v done another batch since and it's quite good. None of our latter brews have been as good as the first and we're beginning to think that the elderflower worked best – since the first brew the elderflower season has ended and we're using just bog myrtle and meadowsweet. We may not be able to recreate the first brew until next summer in that case. We had a wide range of opinions of our beer, but the response was generally good, and some people even overindulged. In any case there was no beer left on the Sunday. A full 90 litres consumed! We'll post some pictures here shortly.
In the meantime here's one of Billy and Dec brewing: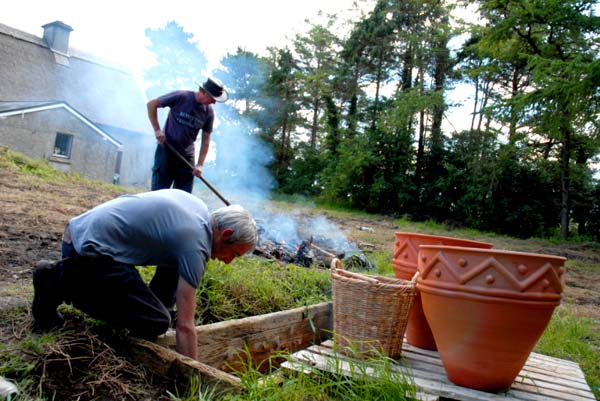 Eachtra kindly mention us on their website http://www.eachtra.ie/ and point out that the water in the trough gets very dirty – and as you can see on youtube, that is certainly the case. But we've found that this matters little. The beer still tastes fine and as far as we know no-one fell ill. We hope to have some microbial analysis of the final product done and will update everyone on the results. On the subject of the theory, we concede that there is a lot of work to be done yet. Our forum will be up and running shortly and we hope that people will indulge in friendly debate and discussion there.
The media coverage has been huge, with Billy and Declan doing interviews with everyone from CBC, Sky News to Marcus Lush (apt name) on RadioLive NZ, BBC Radio and Wired Magazine. It's even inspired a beer haiku at http://www.beerhaikudaily.com/
There are far worse ways
to get through the dark ages
than drinking fresh beer
Now, the writer might have the provenance wrong but so what!
Archaeology Ireland is out on September 16th, and afterwards we'll be publishing the full article on our website at http://www.mooregroup.ie/beer/index.html . After that we'll continue to post new information as we go along. The next steps in our project involve a research trip to the Oktoberfest and a trip to Finland to investigate Sahti beer making. And a some point we've got to get to Boscos brewery in Georgia (USA) where the master brewer uses a hot rock technology for their brew. All the research is self financed or financed by Moore Group, so if there's a beer philanthropist (I'm sure that such people exist) out there we'd gladly accept the assistance.