ZEBRA MUSSEL CONTROL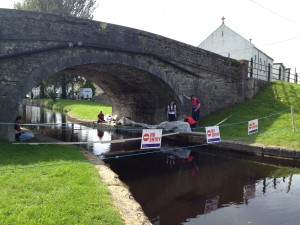 Here's a press release from IT Sligo on trials for Zebra Mussel Control measures. Moore Group provided assistance.
Scientific Trial on Grand Canal May Mean Breakthrough in Zebra Mussel Control
Scientists from the Institute of Technology, Sligo are this week carrying out a trial on the Grand Canal, to establish the effectiveness of an innovative environmentally friendly method of zebra mussel control. Dr Frances Lucy, an ecology lecturer and researcher at the Department of Environmental Science at IT Sligo,   and PhD student Sara Meehan, are trialling the natural biopesticide Zequanox® at Tullamore Harbour, Co. Offaly. If the product proves effective against the invasive species, it will be a significant breakthrough, given the economic and ecological costs of zebra mussel populations in many countries, including Ireland.
"We are hopeful that Zequanox®  will prove to be an effective method of zebra mussel control in inland waterways and that  this research will  play an important part in the development of aquatic invasive species control," said Dr Lucy.
She has been monitoring the growth and spread in the zebra mussel population in Ireland since 1998. "This is the first time we have been able to demonstrate control of zebra mussels in the inland waters of Ireland", the lecturer pointed out.
Zebra mussels are an invasive aquatic freshwater mussel, which have invaded canals, rivers and lakes all over Ireland since the 1990s.  Currently the canal at Tullamore has a zebra mussel population in the harbour area. The scientists are this week treating a mussel population attached to a contained wall area in the canal adjacent to the harbour and will monitor the mortality of the mussels weekly for approximately one month.
Zequanox®  is produced by Marrone Bio Innovations (MBI), an America based company that develops natural pesticides. The product is comprised of dead Pseudomonas fluorescens, cells, a naturally occurring bacterium found in river soil. Zebra mussels readily ingest Zequanox® as they do not recognize it as a potentially harmful substance. It works by destroying the cells in their digestive gland thus causing death and has been proved effective against all life stages of the zebra mussel. The product has been used successfully in both the US and Canada. Other methods of control have proved to be either ineffective (scraping) or potentially harmful (hypochlorite).
"We are really optimistic that the results from this demonstration trial will mirror those found in the United States which showed that Zequanox® can give  a high mussel mortality with just a six to eight  hour treatment time," said Sara Meehan.
She explained that zebra mussels are dangerous for some fish species and can also pose a threat to water treatment systems by blocking pipes. "Zebra mussels reduce phytoplankton numbers in water due to their rapid filtration rates, thus reducing the food source for zooplankton feeding fish" explained the student.  Zebra mussels can also cause problems for anglers as they cling to boats and fishing equipment, including nets. This also leads to spread of the species to other waters.
"Tullamore was chosen as the site for this trial as we could design a very effective controlled experiment around the engineered canal system, where we knew the exact dimensions of the system", explained Dr Lucy. She said that Waterways Ireland had been very supportive of this project.
The IT Sligo study is providing a new dimension to zebra mussel control by using an environmentally friendly approach which is expected to control the zebra mussel population while at the same time conserving and maintaining the ecology of the waterway. All relevant agencies were consulted and gave their approval for this trial.
"I am really excited about this demonstration trial as it is the first of its kind in Ireland", said Meehan.
The Zequanox trial is being funded by MBI and the IT Sligo President's Research Bursary Fund.