Irish Civil War: Letters on the Eve of Execution
The Irish Civil War began on April 14th 1922 with the occupation of the Four Courts and several other buildings. The final phase of the War descended into a series of atrocities which left Irish society deeply divided and embittered for decades afterwards.
In January 1923 11 Anti-Treaty prisoners including some Galwaymen were executed (two in Limerick, four in Tralee and five in Athlone). The men executed in Athlone were Martin Bourke (Caherlistrane, Co. Galway); Thomas Hughes (Athlone); Stephen Joyce (Derrymore, Caherlistrane, Co. Galway); Herbert Collins and Michael Walsh (from Derrymore, Caherlistrane, Co. Galway).
Michael Johnson forwarded us copies of letters written by Martin Burke and Stephen Joyce the night before they were executed at Athlone. Martin wrote to his cousin, Kathleen Greaney, of Ballinapark, Headford and Stephen wrote to his sister Julia. The originals belong to Michael's cousin in New York.
It's remarkable that the chance discovery of Frank Cunnane's letter behind a dresser in a cottage in Headford which we posted earlier here has instigated a very rewarding section of this blog. We've received photos, mass cards and letters from the period and have been very happy to facilitate the conversation which has arisen. We're delighted to be able to post the letters below and hope that by posting them we can do some justice to the sacrifice these men made.
The originals below are followed by transcripts (I've transcribed misspellings etc. as well).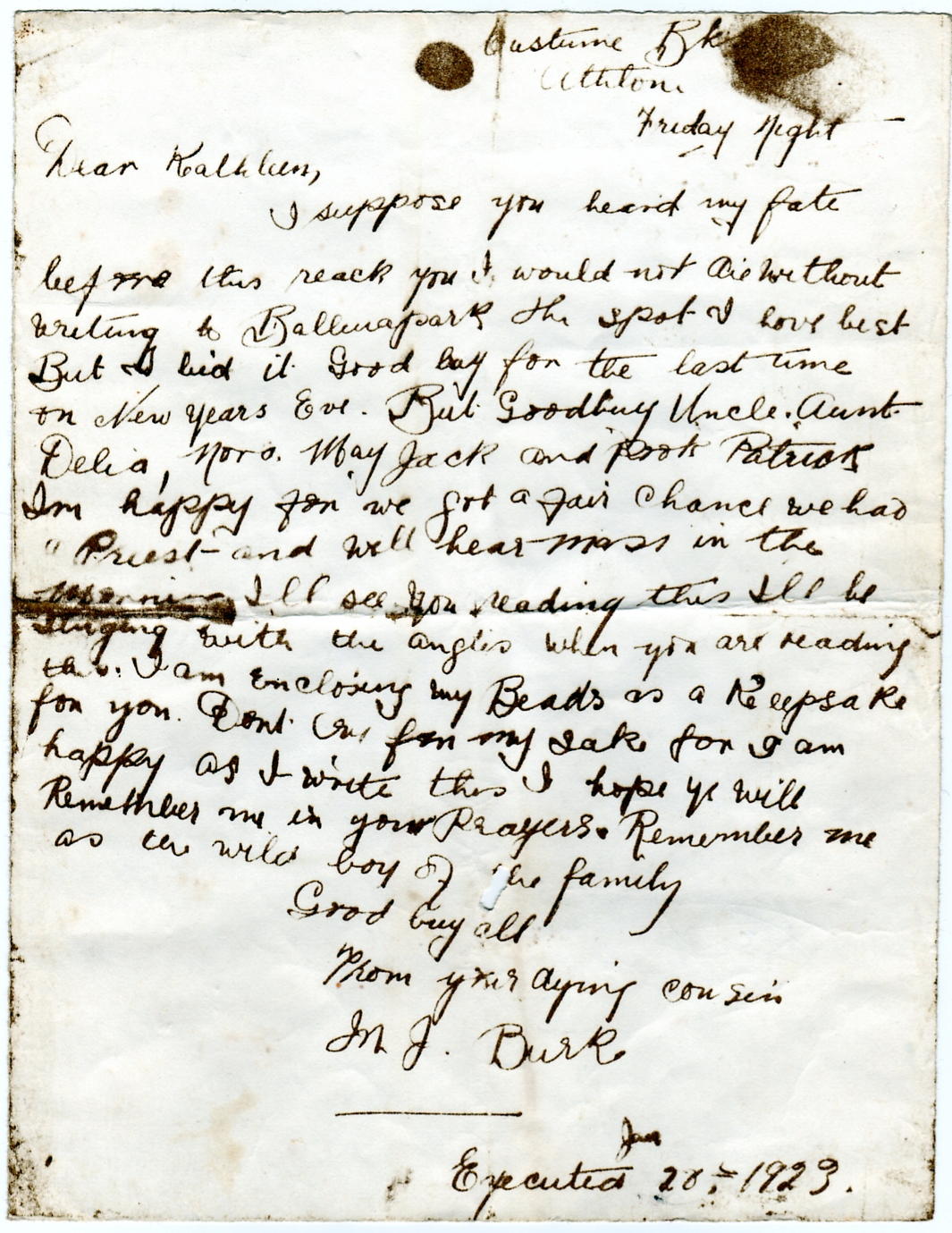 Custume Bks
Athlone
Friday Night
Dear Kathleen
I suppose you heard my fate before this reach you I would not die without writing to Ballinapark the spot I love best But I bid it Good buy for the last time on New Years Eve. But Goodbuy Uncle, Aunt Delia, Nora, May, Jack and poor Patrick. I'm happy for we got a fair chance we had a Priest and we'll hear mass in the morning. I'll see you reading vthis I'll be singing with angles when you are reading this. I am enclosing my Beads as a keepsake for you. Don't cry for my sake for I am happy as I write this. I hope you will remember me in your prayers. Remember me as the wild boy of the family.
Good buy all
From your dying cousin
M J. Burke
Executed Jan 21th 1923
Custume Barracks
Athlone
Jan 20th, 1923
Dear Sister Julia,
Just a few lines bidding you the last farewell on tomorrow morning. My self M. Walsh, M. Burke, H. Collins, Thomas Hughes will meet our death at the hands of Irishmen. Still we are quite happy and contented. We have been to see a Priest we will hear mass in the morning and reveive the body and Blood of our Saviour tomorrow morning at 8 a.m.  (It will?) be the happiest hour of my life. I know this will come as a terrible shock to you. I fear your hearth will break. I ask you  not t o greive for me for it must be Gods holy will that I should sacrifice my life for Ireland. It has been the dreams of my earliest youth the music of the rifles have always been ringing in my ears since the day Ctd. Darcy handed me his revolver and said hold this rather than (point it for your life?). This I was destined (?) to as you know the consequences now tell mother and Father not greive for me for all I ask now is to pray for me. I would not like to hear ye crying when I am among the dead tell all my companions to pray for me Julia I ask you to wear those medals in memory of your dead Brother. God bless and protect you from all danger Good buy now until I see you in Heaven.
From your loving Brother.
Stephen.