Civil War in Connaught
Now with added theme song (27th November 2011) – For more about this song see this post.
Every so often, a friend, friend of a friend, client, passer-by or, in one case, our regular courier, will drop in and present us with a remarkable find and ask us what they should do with it. It always causes great excitement – despite what people think archaeologists don't find 'gold' all the time (and we don't all work in Egypt or the Middle East, or have a whip and lead incredibly interesting lives being chased by evil geniuses bent on world domination – although we have met some people who think they are Indiana Jones, and emulate that fictional character in dress and style).
In fact, some of us have never found anything of value.
We've had people come in to us with everything from prehistoric axe heads, coins and brooches to early belt buckles. A colleague was even presented with a nineteenth century Zulu spear, bizarrely found in a drainage ditch in the foothills of a remote mountain in the North West! How it got there we'll never know, but it had been there for some time. The stories of these artefacts and their discoveries are sometimes as interesting as the artefacts themselves. There's a great display in the National Museum on this topic, well worth viewing. Our advice is always the same – in most cases these objects must be given to the museum.
Recently a friend, a returned Yank, John Monaghan, while renovating the cottage he was moving into, found an old letter taped to the back of a kitchen cabinet and upon reading it was shocked and moved by his discovery. Johnny has a huge interest in the local history of his area and began researching the letter and its writer. His findings and the scan of the letter are presented below.
The letter was written by Francis (Frank) Cunnane of Headford to his Mother on the eve of his execution along with 5 others in 1923. As an artefact of a tragic time in Irish history, it's an important document and we felt it deserved to be reproduced here. After the scan of the letter, you can read a transcript version of it. We've also presented a timeline from the War of Independence through the Civil War to put the letter in context, with a more detailed account of the events leading to Frank's execution. John has since tracked down and returned the letter to Frank's descendents. The timeline is derived from Seamus Fox's very useful website and the more detailed account was derived from Nollaig Ó Gadhra's book, Civil War in Connaught, 1922-1923 in which the letter is also reproduced. We're not sure where Nollaig found the letter, but obviously it must have been returned to hiding afterwards.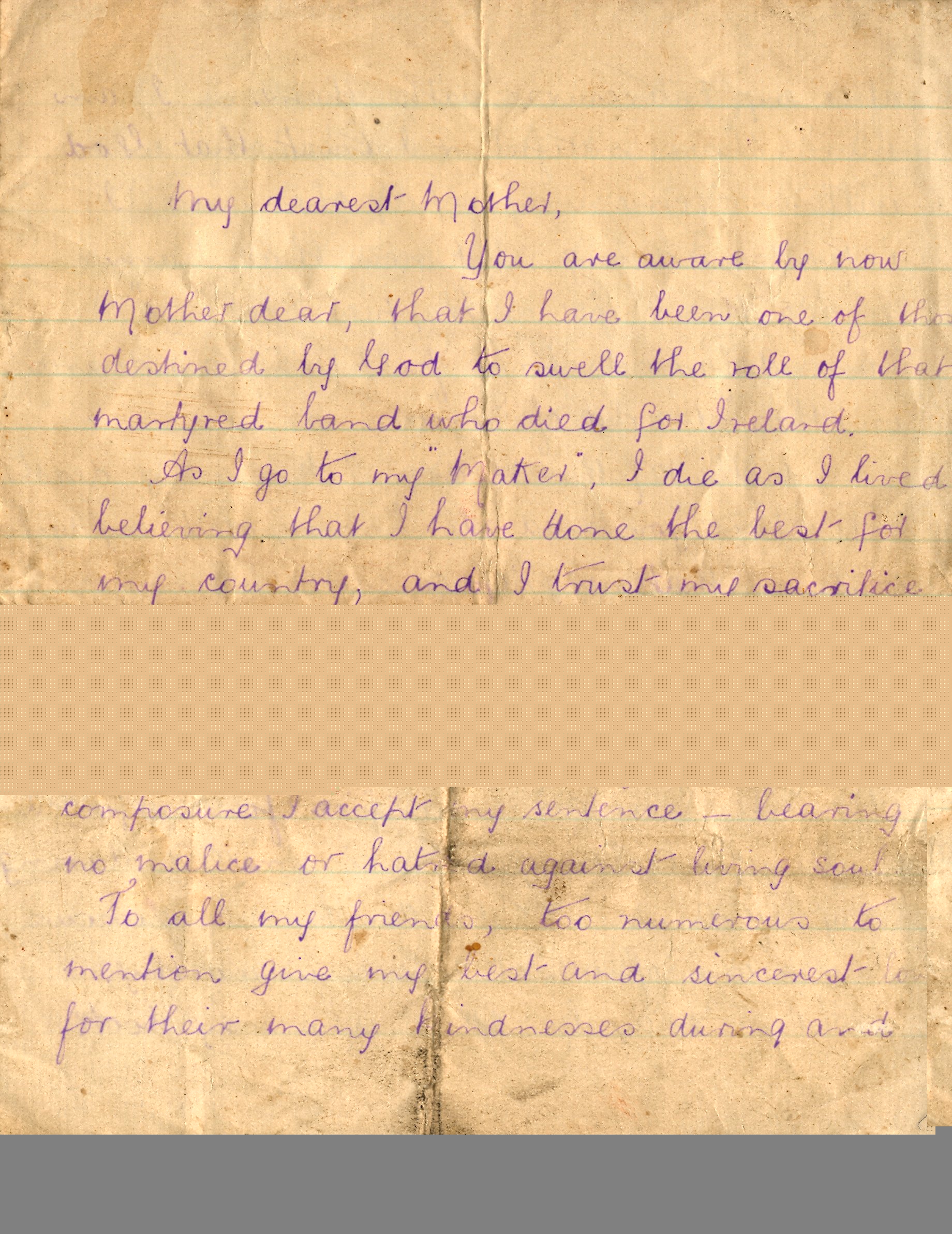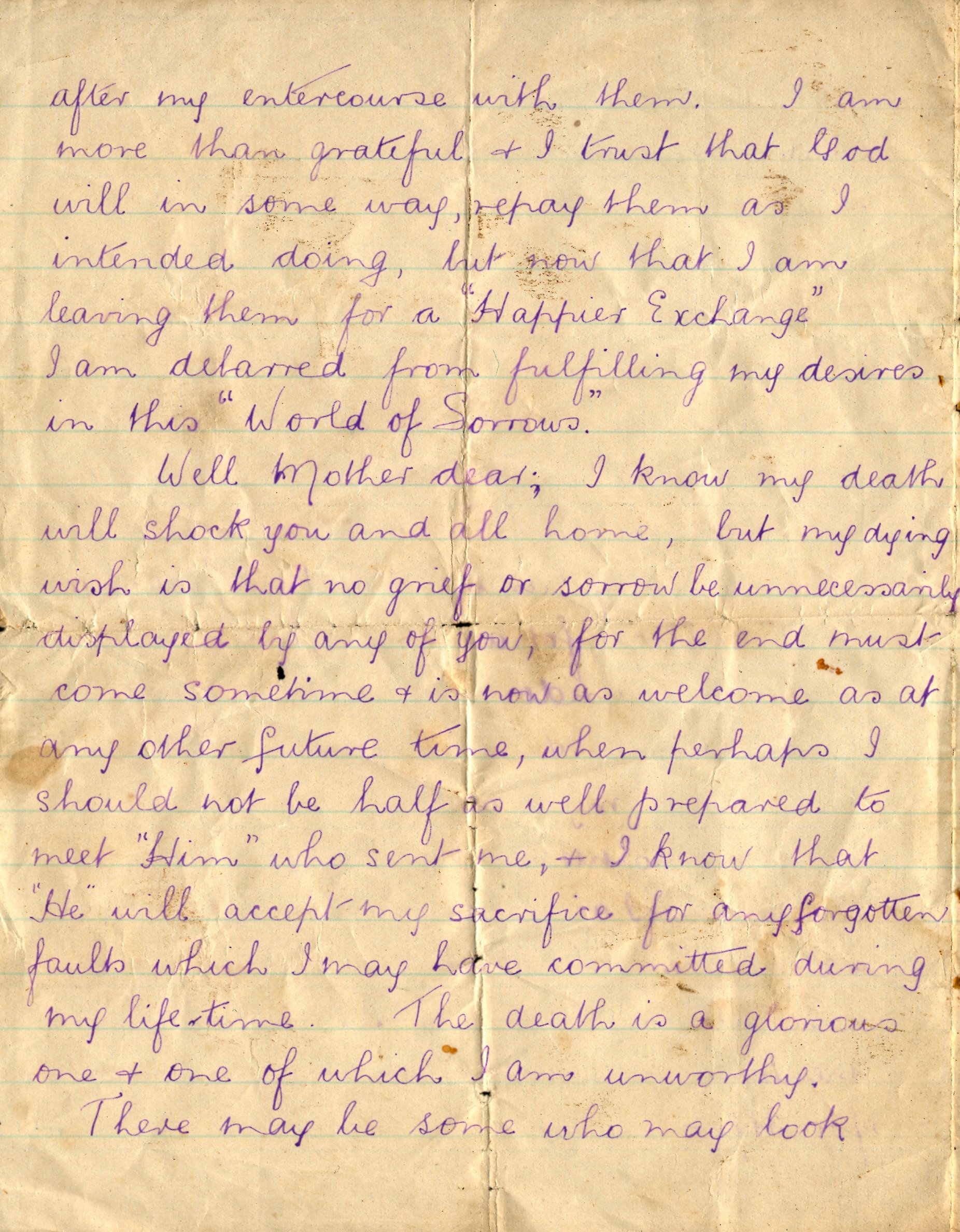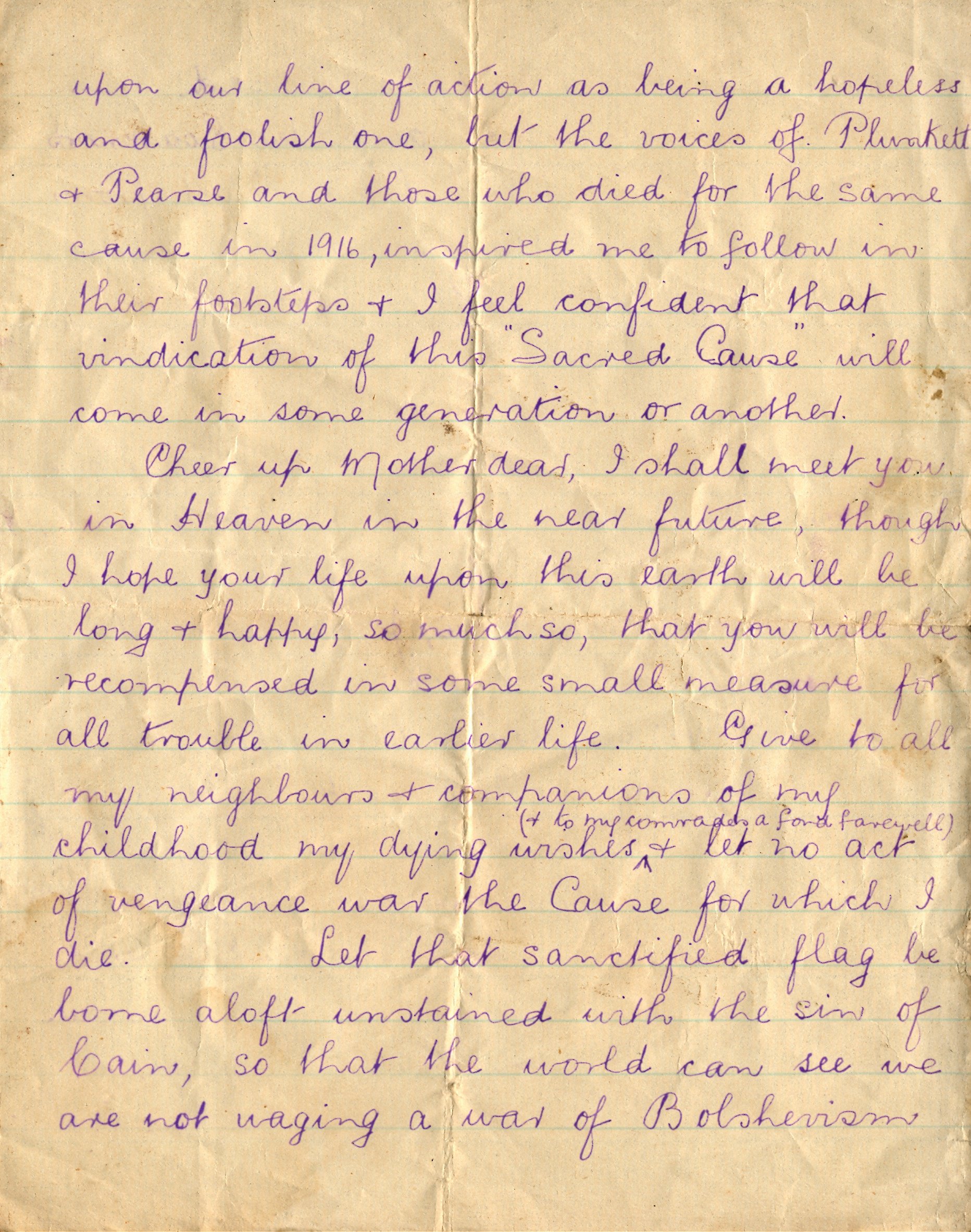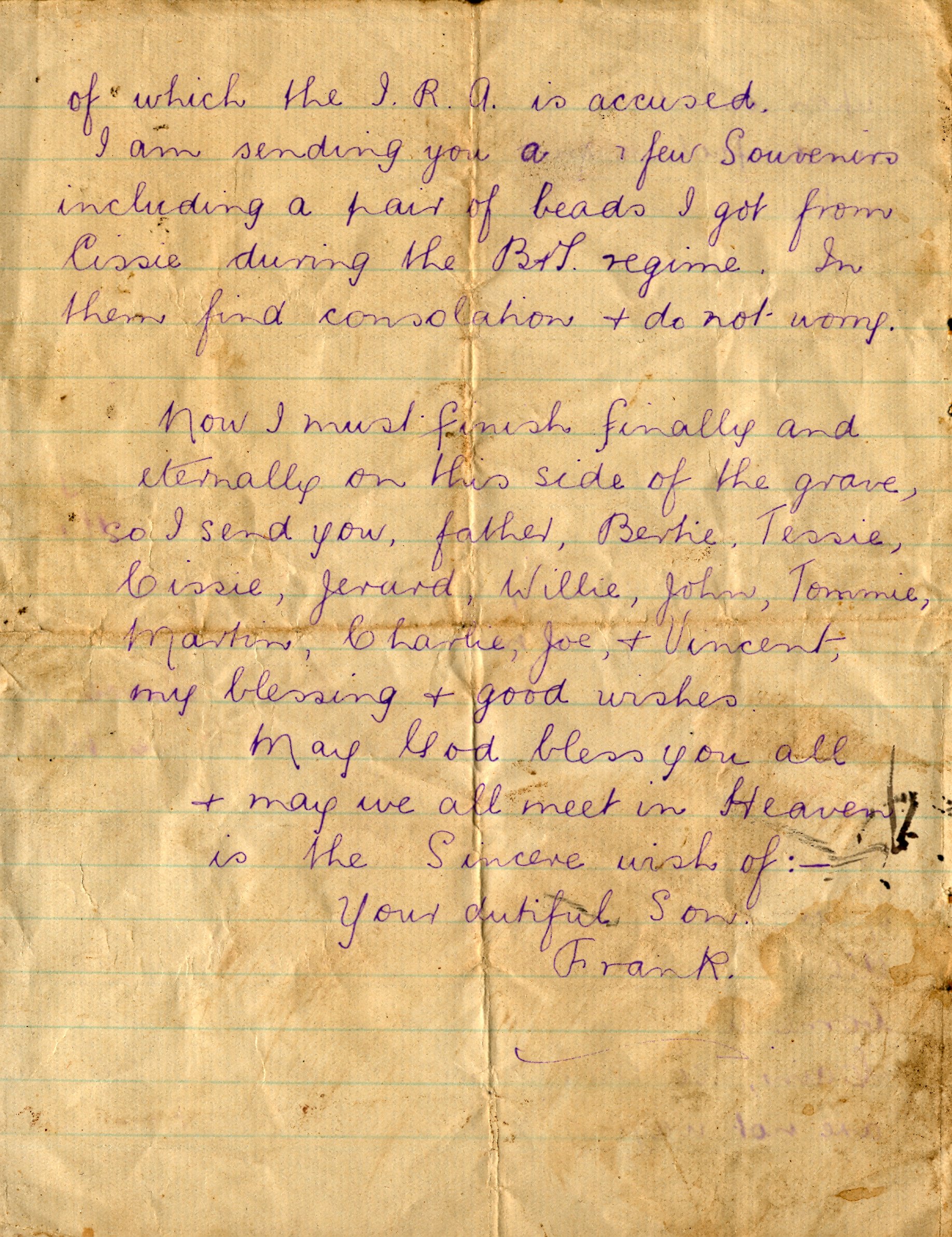 In the Reception Ward
Galway Gaol, 1923
My Dearest Mother,
You are aware perhaps by now that I am one of the destined by God, to swell the roll of that martyred band who died for Ireland. As I go to my Maker I die as I as I lived believing that I have done the best for my Country and I trust that my sacrifice will suffice atone for anything that has remained undone by me; that I have conscientiously done everything for the better interests of my country, according to my rights.
I do not doubt, therefore it is with composure I accept my sentence, bearing no malice or hatred against any living soul. To all my friends too numerous to mention, give them my best and sincerest for their many kindnesses during and after my intercourses with them. I am more than grateful and I trust that God will in some way repay them as I intended doing, but now that I am leaving them for a 'Happier Exchange', I am debarred from fulfilling my desires in this 'World of Sorrows'.
Well Mother dear, I know my death will shock you and all home, but my dying wish is that no grief or sorrow be unnecessarily displayed by any of you for the end must come some time and it is now as welcome as at any other future time, when perhaps I should be half as well prepared to meet 'Him' who sent me and know that he will accept my sacrifice for any forgotten faults which I may have committed during my lifetime. The death is a glorious one of which I am unworthy.
There may be some who may look upon our line of action as being a hopeless and foolish one but the voices of Pearse and Plunkett and those who died for the same cause in 1916 inspired me to follow in their footsteps and I feel confident the vindication of this "Sacred Cause" will come in some generation or another. Cheer up, Mother dear, I shall meet you in Heaven in the near future, though I hope your life upon this earth will be long and happy so much so that you will be recompensed in some small measure for all trouble in earlier life.
Give to all my neighbours and companions of my childhood my dying wishes (and to my loyal comrades a fond farewell) and let no act of vengeance mar the Cause for which I die. Let that sanctified flag be borne aloft unstained with the son of Cain, so that the world can see that we are not waging a war of Bolshevism of which the IRA is accused. I am sending you a few souvenirs including a pair of beads I got from Cissie during the B and T regime. In them find consolation and do not worry.
Now I must finish finally and eternally on this side of the grave so I send you, Father, Bertie, Tessie, Cissie, Gerard, Willie, John, Tommie, Martin, Charles, Joe and Vincent my blessing and good wishes. May God bless you all and may we all meet in Heaven, is the sincere wish of your dutiful son.
Frank
Frank Cunnane, along with five other men, was executed on April 11, 1923. Although the letter appears to have been written in Galway, the execution was carried out in Tuam. John tells us that he has heard that Frank was not one of the six men initially selected for execution and that he voluntarily replaced a married man with children.
The full story of the War of Independence is well recounted in many books. Here, we have simply listed a few critical events in the area around Headford as well as some events elsewhere, to provide a flavour of the period.
WAR OF INDEPENDENCE
In May, 1920 Seamus Murphy led an IRA attack on the RIC barracks at Loughgeorge, Co. Galway. In July a car with four RIC men was ambushed at Aughle, near Tuam. Two RIC men were killed (Con James Burke and Con Patrick Carey). An RIC reprisal involved burning the Town Hall in Tuam and further destruction to property in the town. In October of the same year, John O'Hanlon from Lackagh, Co. Galway was shot dead by Black and Tans in the presence of his family. In November Kevin Barry was hanged in Mountjoy Jail. In Galway, in one of the great outrages of the period, a young mother, Ellen Quinn, was shot through the stomach by the RIC as she sat cradling her child by the roadside in Kiltartan, Co. Galway. A military inquiry found that the firing was "a precautionary measure".
A Galway priest, Fr Michael Griffin, was arrested by the RIC on Sea Road, Galway – his body was found on 20 November buried in a boggy field near Barna. In March 1921, the flying column of the West Galway (Connemara) Brigade led by Peter (Petie) Joe McDonnell ambushed a four-man RIC patrol in Clifden, Co. Galway resulting in the death of two RIC men (Con Charles O'M Reynolds and Con Thomas Sweeney). The RIC set fire to a number of buildings in Clifden in retaliation.
The West Cork IRA, led by Tom Barry, carried out a large-scale ambush at Crossbarry, Co Cork, also in March 1921. They were nearly surrounded but managed to escape.This engagement was one of the largest encounters of the War of Independence. One of the British Army casualties was notorious Capt Hotblack.
Louis Darcy, O/C Headford Battalion, IRA was arrested at Oranmore. His body was later found in Galway and, it is alleged that he was dragged behind a military vehicle from Oranmore to Galway. A five-man RIC cycle patrol from Maam, Co. Galway was attacked near Oughterard resulting in the death of one RIC man (Con William Pearson).in April 1921, a 14-man RIC cycle patrol was ambushed at Kilmilkin, 5 miles from Maam by the 24-man strong flying column of the West Galway Brigade under Peter Joe McDonnell resulting in the death of one RIC man (Con John Boylan) and the wounding of another. The body of a chemist, Thomas McEver, was found at Dunmore with a label saying "Convicted Spy – Executed by IRA". It is alleged that he was killed by Crown Forces.
In May of the same year, the flying column of the South Mayo Brigade, led by Brigade O/C Tom Maguire, ambushed an RIC supply patrol in Tourmakeady – four RIC men (Con Christopher O'Regan, Con Herbert Oates, Con William Power, Con John Regan) were killed. In a subsequent wide-scale search by the British Army, Tom Maguire was wounded and his Brigade adjutant, Michael O'Brien (from Neale) was killed. In addition, an IRA scout (Padraic Feeney) was captured and later killed.
In June an RIC patrol was ambushed near Milltown, Co. Galway resulting in the death of two policemen (Sgt James Murren and Con Edgar Day). Sgt Murren was to have retired on pension a week before but due to some delay, his papers had not come through.
The Tourmakeady Ambush
Maguire (who was also brigade O/C) broke his men into three sections placed around the village. The first section was commanded by Maguire; the second under Michael O'Brien and the third under Paddy May. He had about 60 men (with about 25 of them Column men) armed with 6 to 8 rifles and a number of shotguns. The supply patrol consisted of a car and a Crossley tender. The four men in the car were killed but the men in the Crossley dismounted and took up position in an hotel. Maguire ordered his men to withdraw up the Party Mountains but they were followed by a large force converging on them from different directions and they had to take up a defense position until nightfall. When darkness came they got away to safety bringing their wounded commander. Michael Kilroy had got word that the South Mayo men were surrounded and brought his West Mayo column towards Tourmakeady but, by the time they arrived, the South Mayo Column had already escaped the encircling troops.
Dec-06, 1921 – Treaty signed at 2.10am
Jan-07, 1921 – The Dáil approves the Treaty by 64 votes to 57
CIVIL WAR
Between January and June 1921, the British Government supplied the Provisional Government with 11,900 rifles, 79 Lewis machine guns, 4,200 revolvers and 3,504 grenades. The Pro-Treaty forces amounted to (approx) 8,000 men while a Provisional Government source estimated that the anti-Treaty IRA had 12,900 men and 6,780 rifles but it is difficult to know how many of their men were active. Whether Frank Cunnane was involved in any of the actions listed below is unknown.
In July 1922, the Pro-Treaty forces take Galway. In August, Michael Collins, Commander-in-Chief of the National Army, is shot dead at an ambush at Béal na mBláth, Co Cork. In October, Tom Maguire, a divisional O/C of the Anti-Treaty army in Mayo is captured as is Tom Powell and the Ballinrobe column. A raid in late October by Anti-Treaty forces from Connemara and Mayo was carried out on Clifden and after a long fight they took it.
In November, the first executions under the Public Safety Bill took place. In Kilmainham Jail, four Anti-Treaty Volunteers were executed for possession of revolvers. They were Peter Cassidy (7 Usher St., Dublin); James Fisher (Eckland St., Dublin); John Gaffney (3 Usher St., Dublin) and Richard Twohig (1 O'Connor Buildings, Dublin). Tom Johnson protests in the Dáil but Mulcahy says that he knows that people will be shocked and saddened by the executions but stern measures had to be taken or 'assassins and wreckers' would destroy the country. Also in November, Erskine Childers was executed in Beggars Bush barracks by Pro-Treaty forces.
In the west, Michael Kilroy – Commandant of the Western Command of the Anti-Treaty IRA – was wounded and captured during a massive sweep of west and south Mayo. The Pro-Treaty officer in charge said that five of his troops and 11 Anti-Treaty men were killed during this operation. In December, the British king signed the proclamation announcing the adoption of the constitution and the Irish Free State (Saorstát Éireann) officially came into being. At a meeting of the Dáil, Cosgrave was elected President of the Executive Council. Shortly after this date, the remaining British troops left Dublin with the last ones leaving on Dec 17. Northern Ireland voted itself out of the Free State by the stipulation that permitted this in the Treaty
Rory O'Connor (Monkstown, Co. Dublin); Liam Mellows (Wexford and Galway); Joe McKelvey (Stewardstown, Co. Tyrone) and Richard (Dick) Barrett (Ballineen, Co. Cork) were executed in December by Pro-Treaty forces in Mountjoy after the cabinet had explicitly ordered the executions as a reprisal for shootings the previous day. These executions were extra-judicial in that they were not carried out under the Public Safety Act (all four had been in custody since the attack on the Four Courts).The news appeared in the evening paper along with an announcement that there was an assassination conspiracy. The executions were condemned by Labour and others in the Dáil. However, in a division that followed the debate on the executions, the government won by 39 votes to 14.
In January 1923 11 Anti-Treaty prisoners including some Galwaymen were executed (two in Limerick, four in Tralee and five in Athlone).The men executed in Athlone were Martin Bourke (Caherlistrane, Co. Galway); Thomas Hughes (Athlone); Stephen Joyce (Derrymore, Caherlistrane, Co. Galway); Herbert Collins and Michael Walsh (from Derrymore, Caherlistrane, Co. Galway).
February 1923, marks the capture of Frank Cunnane. The following derives from Ó'Gadhra's description of the events of the day. A stormy morning, Frank and his unit were sheltering in a small group of houses in Cluid. At 6am, 30 troops from Galway observed the men. They circled the building and issued a challenge. They were completely taken by surprise. After a brief gunfight, the men surrendered. As the cordon enveloped the men, one attempted to run. Despite a warning shot, he continued and was subsequently shot and mortally wounded. The remaining men, including Frank, were marched to Galway. The equipment captured included 15 Lee Enfield rifles. 3 Mauser rifles, a large land mine, a number of bombs, revolvers, new trench coats and leggings and Sam Brown belts.
In the beginning of March, 1923, at Ballyseedy, Co Kerry eight Anti-Treaty prisoners were blown up in one of the great atrocities of the Civil War. Nine prisoners had been taken from Ballymullen barracks in Tralee (including an ex-RIC man called Paddy Buckley) to Ballyseedy Cross in order to, according to Pro-Treaty people, clear a mine. However, according to Anti-Treaty people, the prisoners were tied to the mine and the mine was detonated. One prisoner (Stephen Fuller) escaped. In March, another attempt to get prisoners to clear a mine at Castlemaine was foiled when some of the prisoners escaped. At Countess Bridge, Killarney, four Anti-Treaty prisoners were blown up and killed but, as at Ballyseedy, one prisoner (Tadgh Coffey) escaped.
A Pro-Treaty army report from Claremorris, Co. Mayo dated March 31, 1923 states "despite their very considerable numbers, and ample equipment in Mayo, the Irregulars have not been inclined to indulge in military action. Extensive destruction of roads, raiding, looting, and the burning of the houses of supporters of the Government is the form their warfare continues to take."
The following day, writing to the O/C of the fourth Western Division of the Anti-Treaty army, Christy Macken (O/C of second Western Division) says that Major-Gen Dan Hogan (O/C Pro-Treaty, Claremorris Command) had been rounding up his No. 2 Brigade for the past fortnight. He says that the tactics that Hogan has been using (of setting up small posts and scouring the surrounding districts) have been much more effective in capturing his men than Lawlor's earlier use of forced marches.
On April 11, 4 Anti-Treatyites – Francis Cunnane (from Headford, Co. Galway); Michael Monaghan (from Clonmehan, Headford, Co. Galway); Martin Moylan or Nolan (from Farmistown, Annadown, Co. Galway); and John Maguire (the younger brother of Tom from Cross, Co. Mayo) were executed in Tuam. Two further executions took place in Tuam on the same day- the men executed were James (or John) Newell (from Galway) and James O'Malley (from Oughterard, Co. Galway).
On 24 May, 1923, Aiken published the order of cease-fire and ordered the dumping of arms. The Civil War is over less than a month after Franks execution. De Valera also issues a statement to the Anti-Treaty army which says that 'Further sacrifice on your part would be now in vain and continuance of the struggle in arms unwise in the national interest. Military victory must be allowed to rest for the moment with those who have destroyed the Republic'
On 30 May, Anti-Treatyites, Michael Murphy and Joseph O'Rourke (from Ardrahan, Co. Galway) were executed in Tuam. O'Farrell says that these were the final executions of the Civil War. However, they are not listed by Macardle in her 77 executions. O'Farrell does say that they were arrested for armed robbery in Athenry on 24 May and also says that accounts differ as to detail, date and affiliation (if any).O'Farrell also gives the date of 13 May for the execution of O'Rourke.