TERRYLAND CASTLE UPDATE
Via the Galway City Museum facebook page – UPDATE: Archaeological Discoveries at Terryland Castle, Galway (click the photo's to embiggen…)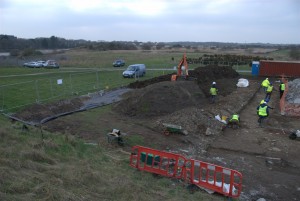 "Galway City Council is constructing a multi-modular ramp to provide safe access from the Dyke Road to the Quincentennial Bridge. Funding from the National Roads Authority has facilitated this work.
A number of archaeological finds have been made and an archaeological company has been engaged to investigate these finds. Moore Group has been engaged along with an Osteo-archaeologist, Linda Lynch, at the site where at least six burials have been discovered. A number of other possible grave-cuts, pits and features have also been found. A row of three nails which possibly formed a line of coffin nails suggest that the burials are of late medieval or post-medieval date. Some 17th century pottery, window glass, clay pipe stems and possible glazed oven brick have also been recovered from the same general level as the burials.
Apart from these a knife, a buckle and other finds have been made from disturbed contexts.
An interesting range of prehistoric stone lithics or tools made from chert and flint have also been recovered. These fascinating finds have a possible date range from the Late Mesolithic (Middle Stone Age) through the neolithic (New Stone Age) and perhaps as late as the Early Bronze Age. These include a characteristic Hollow Scraper tool of Neolithic type.
The finds have been made in the same field as Terryland Castle. There was a Castle here at a fording point in the river Corrib from the 16th Century onwards. There was another castle on the opposite side of the ford at Newcastle, parts of which also survive. The present Castle at Terryland however is really a later Fortified House of early 17th century date which was the property of the Earls of Clanricard, descendants of the De Burgos who came to Galway in the 13th century.
Terryland Castle was garrisoned during the rebellion of 1641 and again during the Cromwellian Wars in 1652. It was occupied by a joint force of Irish and French troops who defended the outworks of the Castle against the approaching Williamite Army in 1691. After a short defence and a skirmish during which several people were killed the Irish and French burnt the castle and retreated into the walled town of Galway. Later, a house – Terryland House – was constructed nearby and its ruins are visible nearby.
There is speculation that the burials might relate to one of the 17th century wars mentioned above or that they form part of a private burial ground for the owners of the Castle and estate. More details will emerge as the excavation proceeds  and an account of the excavation and its finds will be published as soon as possible.
The Galway City Council's Heritage Office and Engineers along with the National Roads Authority Archaeologist are working closely with the site Archaeologist and the licensing Authorities in the National Monuments Service and National Museum of Ireland to facilitate the recovery of vital finds and information from what is proving to be a very historic and important archaeological site. The contractors have fenced off the site for the duration of the site works and excavations. All enquiries regarding the site may be directed to Garry McMahon, P.R.O. or Dr. Jim Higgins, Heritage Officer, Galway City Council, City Hall, College Road, Galway. (091) 536547."